A recent post on Behind The Noodle Curtain, titled Canadian boys need to toughen up, highlights the danger signals to watch for when it comes to Thai bar girls on the lookout for soft touch tourists, and ex pats who so easily fall in love . Rick's excellent post, also tells the tale of two of his fellow Canadian nationals who fell victim to the honey traps often laid by Thai bar girls. One lost a lot of money, the other his life, a victim of murder when shot dead by a hit man.
Rick's post is a must read for anyone new to Thailand, or those about to visit for their first time. In fact Rick's post is also a reminder to all of us that going into a cross cultural relationship, without a grasp of your partner's language, really does leave you open to the idiom of love being blind.
A list of life's untrustworthy 'professions', would see Thai bar girls vying with metropolitan taxi drivers for a place very near the top. A read through many Thai blogs and forums reveals horror stories of bar girls skimming, scamming and ripping off customers, boyfriends, and their other halves… but does one bad apple spoil the whole bar girl bunch?
The post on Behind The Noodle Curtain is educational and thought-provoking but is there only one side to Thailand's sex industry coin. In trying to squeeze all the pips from the sour tasting apple, Beyond The Mango Juice puts on its little black micro mini, ankle boots, spaghetti strap top, and after drowning and downing some M-150 (Red Bull) and yaba daba doo ( methamphetamine), takes a look at the western male through the eyes of a Thai bar girl.
The photographs used in this post are for illustration purposes only and Beyond The Mango Juice in no way implies any of the women pictured are involved in the sex industry.
When Caucasians land in the City of Angels they head off to the likes of Pattaya and think they own it. We are talking about those who believe they can walk on water and avoid drinking it, the western tourist and ex pat.
Any young Thai girl heading for Pattaya and Bangkok's sex tourist spots for the first time, would do well to be advised by one of the industry's more experienced hands on the kind of customers she will certainly meet. But what should the young protégée be wary and warned of.
Pattaya is the worlds sex capital, and anyone who has been there will know temptation is only one bar away, and inside them is a human menagerie which spans to every society of life. Here's a few characters you are always going to find in Pattaya, and my guess at how Thai bar girls might view them.
Typical Pattaya Bar Punters
Johnny Cash – Johnny's been hanging around for a couple of months now, and he's always got money, but where's it coming from. If he's splashing big cash in the bars and living life like there's no tomorrow, he's either a rich man, or a plastic freak whose wallet is full of money and ATM cards. If he's drinking around the girl bars of Pattaya, and not staying at the more exclusive Thai resorts, there's every chance he's surviving on credit cards. People with real big money in Pattaya often settle for the quiet life. Take him for what you can, but don't give him your heart.
Johnny Nightlife – Johnny visits Pattaya twice every year for three weeks at a time, and is out every night, but never during the day. He's bedded many bar girls, but only at hand-picked hotels, and his 'dates' apartment. Johnny's probably a married man and spends the daytime with his overweight western wife. Go with Johnny and clean him for all you can.
Johnny No Johnnie – When it comes to safe sex Johnny's as unprotected as they come. Johnny doesn't care about HIV, or even himself, so he won't care about you. When Johnny's in the bar the only bell ringing should be one worn around his neck. Johnny No Johnnie has been banned from all the single clubs and

online dating sites

 in his home town, now he's turned his loins to Pattaya. Avoid.
Fat Johnny – The only time Johnny gets off his bar stool is when his bladder is full, or to jump on the back of his rented motorbike to take one of the girls back to his room. Johnny didn't get overweight by being energetic, so every time he wants a takeaway, a pack of cheap cigarettes, or a beer from the fridge, you'll be ordered to get it. Nearly forgot, as you would expect, girls on top. Johnny's harmless but hard work.
Johnny Rotten – He personifies all the qualities the Thai's dislike. Johnny's loud, rude and disrespectful. He'll think nothing of swapping girls from the same bar night after night. You're going nowhere with this one so try to shun any advances. Either that, or hike up your price.
The tourist spot revellers and their antics highlighted above, can barely be described as 'criminal', but they do quickly convince new Thai bar girls that money and self-respect are not always partners in bed. A new bar girl from a poor rural village, who witnesses at first hand the drunken capers of most falang, soon realises her customers have less common sense than her parent's buffaloes. Sadly for some, it's a money-making opportunity too good to miss.
A number of the bar girls who find 'love' with holidaying tourists will be sent packing back to their towns and villages with a bundle of cash, and a promise of more to come. For many the monthly handouts dry up as the falang realizes work, and an alcohol free life, are paying for buffaloes and a motorbike he can't afford to travel and see. When the pay cheques stop, the girl heads back to the beach resort with a changed and hardened outlook towards the western man.
A soi (street) wise Pattaya bar girl will view most tourists and ex pats as honest, good-hearted people, who are easy prey to a good-looking girl with a sparkling smile. Regrettably, the Johnny's among those westerners, have soured and disillusioned the minds of so many Thai bar girls over the years that a bite of the forbidden fruit, often leaves many western men with a bitter taste. Pattaya's apple has been churned into cider and gout, but don't always blame the bar girl.[dublin-core-metadata]
Credits
Top photograph Bar girl  by int16 / Webshots
Photograph Two Thai girls   by mark_karasek/Webshots
Photograph Thai girl   by mark_karasek/Webshots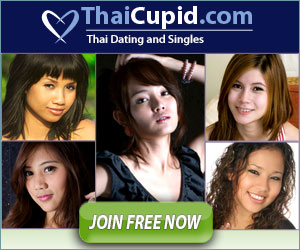 © 2010 – 2014, Martyn. All rights reserved.