I recently spent a few days in the city of Udon Thani, something I do on each of my holidays to Thailand. I look on Udon Thani as my barometer of how well tourism in Thailand is faring. In Bangkok, the long tail boats on the Chao Phraya River may be bobbing empty, and the tuk tuks nearby stood still, but what about Udon Thani, and my true barometer test. Is business for the bar girls good? If Udon Thani bar girls are doing a decent trade, then I think it's likewise for the Land of Smiles too.
Udon Thani has its fair share of ex pats, but as far as tourism is concerned, if you take away the peak Christmas season, then Udon receives just a gentle ebb and flow of hormone fuelled sex hungry tourists. A spike in numbers is easy to notice because Udon Thani's bars become much busier, and the bar girls smiles are much more sweet.
With reports circulating that Thailand could lose over five billion US dollars in lost tourism revenue this year, ' Big Trouble for Thai Bar Girls in Tourist Thailand ' could be another crass TV series about to happen. On second thoughts, who would have the 'Bravo' to produce that one. Currently there are more lucky charms being rubbed in the bars of Thailand than breasts in hotel rooms.
My stroll down Sampantamit Road in Udon Thani's city centre started at the Irish Clock Bar, and I headed back to the main road via refreshments at the New York Bar & Grill, and the surreal named Orange Moon. There may be life on Mars but Major Tom would discover the Moon and those nearby had very little.
The Irish Clock has its regular fill of ex pats and its excellent food pulls in a steady crowd throughout the day, but your easy-to-spot typical tourists were very thin on the ground. The 'Clock' has bar girls, but they are there to serve food and drinks, and not fool around.
The New York Bar & Grill is one of Udon's newer bars and is smart looking, with the added bonus of a pool table and a Nintendo Wii game screen…. but very few customers. The approach by the bar staff here was straight forward and head on.
A young bar girl immediately parked herself next to me and her intentions were soon as clear as the mischievous glint in her eyes. I whispered a few kind words in to her ear and she backtracked to where she'd come from. When a punter doesn't want to shunt her, and there's nowt else about, a Thai bar girl gets back to the basics of food, phones and thumbs.
If you ever come across a charity with the slogan, ' Thai bar girls are starving ', keep your hands out of your pockets and don't believe a word. No matter what fix the Thai economy might be in, a Thai bar girl and her food won't suffer. A stroll around Udon Thani's Nutty Park is proof of that. Thai bar girls always find time and money to eat. Udon Thani girls are no different.
I had a chat with the bar owner, he was American (I'm terrible with names), New York Bar & Grill kind of gave it away anyhow. What he said I knew, Udon's bars were struggling, just like the rest of Thailand. He was hoping tricks would pick up toward the year end, and I hoped so for his sake, because he struck me as a genuinely nice man.
The Orange Moon had one customer, me. This time there was no rush to sweet talk me, just a politeness, and as always, respect. Either I was past my sell by date, or the girls had given up. I think my passport held the clue. Food, phones and thumbs.
In good times falang phone bar girls, and during the bad… well, even that fat Brit with the bad breath whose number she meant to delete, suddenly becomes a very sexy man.
Now, in the bars and apartments of tourist Thailand, Thai bar girls phone conversations to their parents will be two-a-penny and follow a similar line to this.
'I'll send more money next month mama, now the factory has no overtime.'
I could hazard a guess at what juice they produce at the Orange Moon factory. I drank my beer and paid my bill. My barometer read dead. Besides, I was late for my date.
I rendezvoused with Wonderful Wi at the Steak Sizzler on the fourth floor of the Charoensri Shopping Mall, and as we ate, I couldn't help but wonder if life on Soi Sampantamit Road had picked up. My guess was it hadn't, and Udon Thani's bar girls would be busy with food, phones and thumbs.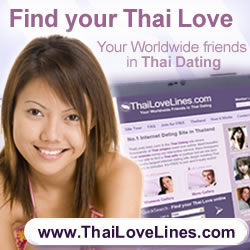 © 2009 – 2013, Martyn. All rights reserved.